Carnon, half land, half water city
Discover all our tourist information from Carnon. Go off to explore the Camargue. Rent a boat without licence and visit the medieval city of Aigues-Mortes, savour seafoods and go to Sète.
Carnon is a world filled with the bright colours of animals, the pink of the flamingos, the black of the bulls and of course the white of the wild horses. Set in Camargue a region of marshes and natural parks, Carnon possesses a strong self identity and heritage.
The territory of Carnon is divided into two separate entities: the Mauguio, here you will find the preserved site of the 'Golden Pond', and the Carnon coastline made up of numerous dunes and beaches which bring a seaside charm to the tradition of the Petite Camargue.
Carnon has many attractions for the tourists; you can roam through its pasturelands and come across its many herds of various animals, or visit its orchards full of tempting fruits of the season. Or you can also try to spot a whale from the whale viewing station, or maybe do some sport while you're there, no matter what you want to get out of your holiday, you are sure to enjoy your visit to Carnon with its multitude of sportive and cultural activities.
Informations :
It is possible to arrange a transfer from the TGV station in Montpellier (15km) or the Fréjorguyes airport (7km)
The one way trip between the Canal du Rhône à Sète and the Canal du Midi can be cancelled due to the weather impeding the passage over the Lake Thau
To see : the medieval city of Aigues-Mortes
To taste: seafood, prawn 'catigot'
To know : At the 'Palavas les flots' you will find a revolving restaurant which offers a stunning view of the surrounding environs.
Most Important : The Georges Brassens Square in Sète
Navigating on the Canal du Rhône à Sète:
Over a 100km the Canal du Rhône à Sète floqs through Lqnguedoc and the Petite Camargue just to the edge of Provence. Linking the Canal du Midi to the inland waterways of the Southeast, this canal is made up of the Canal des Etangs and the Beaucaire Canal which link together the lakes of Thau and Sète in Beaucaire.
Navigating on the Canal du Midi :
This canal was constructed by Pierre-Paul Riquet during the 17th century. With its famous round locks it was classified as a 'world wonder' by the UNESCO in 1996. A real life hydraulic museum, the Canal du Midi is overflowing in cultural richness and beautiful scenery. From Toulouse to Lake Tahu it is 240km long and has 61 locks, 55 aqueducts, 7 canal bridges and 126 bridges.
To know the tourist information from Carnon, you can navigate in the map by clicking the various cities of the menu or to navigate directly in the map with your mouse.
Légende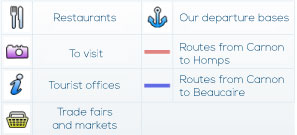 Departing from Carnon:
Week-end
Carnon – Aigues-Mortes – Carnon : 40 km – 0 locks – 8 hours
Mini week
Carnon – Marseillan – Carnon : 94 km – 0 locks – 12 hours
Carnon – Adge – Carnon : 114 km – 6 locks – 16 hours
Carnon – St Gilles – Carnon : 114 km – 0 locks – 14 hours
Mini week one way
Carnon – St Gilles – Carnon – Agde : 148 km – 3 locks – 19 hours
One week
Carnon – Capestang – Carnon : 200 kms – 30 locks – 32 hours
Carnon – Beaucaire – Carnon : 142 kms – 2 locks – 20 hours
Carnon – Beaucaire – Sète – Carnon : 198 km – 2 locks – 28 hours
One week one way
Carnon – Homps : 143 kms – 17 locks – 27 hours
Carnon – Aigues-Mortes – Colombiers : 125 kms – 15 locks – 25 hours
Two weeks
Carnon – Narbonne – Carnon : 260 km – 52 locks – 46 hours
Two weeks one way
Carnon – Beaucaire – Carnon – Homps : 285 km – 22 locks – 43 hours
Carnon – Carcassonne : 183 km – 33 locks – 35 hours